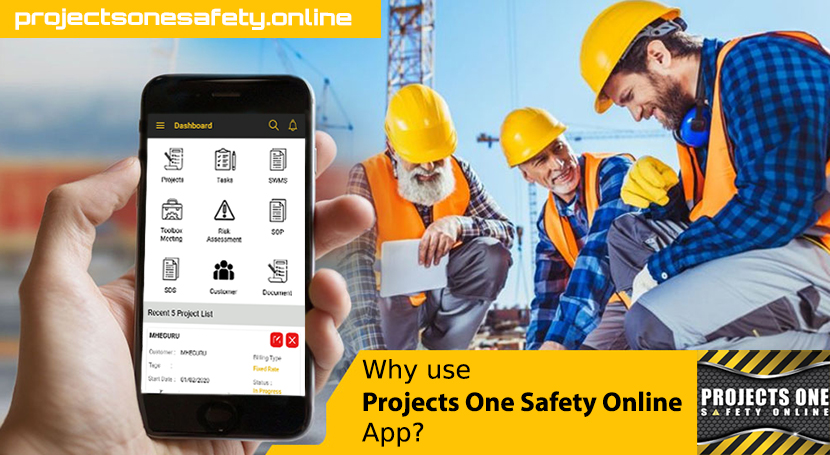 Why use Projects One Safety Online App?
The good news is that testing has begun! After 18 months of hard work the Projects One Safety Online Mobile application is getting close to being completed. So now is a good time to tell you more about it.
I am so excited, after talking about it for so long we will soon have an easy solution for all your Safe Work Method Statements (SWMS), Risk Assessments, Project Management needs, and various other safety needs.  It makes putting safety back on the agenda an easy task. We do understand how scary it may seem, Projects One Safety Online (POSO) can be your starting point. Using POSO system for your day to day safety needs and let our office staff assist with the rest.
10 Reasons why all tradies should use Projects One Safety Online mobile application
Written by, a Tradies Wife, creator of Projects One Safety Online, the 'simplifier' of all thing's safety
Now I have worked hard to make your safety simple. So, don't make me grumpy by telling me, you don't have time to do your safety. That excuse just left the building. What is that, you say 'you don't have the money', what $25 a week is going to break the bank? Oh, I hear you, you don't know how to write a SWMS, well that's no excuse either. POSO takes you through step by step, you don't even have to write much more than your name. The time for making excuses for not doing your safety paperwork is over!
Making your life easier – Imagine doing your SWMS onsite, in less than 10 minutes, including signed by your staff and emailed to your principal contractor. No more pushing your safety paperwork under the Ute seat and forgetting about it. The boss lady is going to love you for it!
Saving you time – Your staff can login and see the project, task and safety documents they are working on.

Less time spent in the office preparing SWMS and Risk Assessments means more time onsite, or fishing, or with the family…
Admin staff can login and add documents that can then be seen by you and your staff immediately, no more running back to the office for that paperwork.

Saving you money – goes hand in hand with saving time. Your investment will be rewarded.

If you haven't had the chance to read our blog on Benefits of a great Workplace Health and Safety system, now's a good time to give it a read. It outlines the many great reasons to put a great Safety System in place and how your return on investment will be rewarded
No one wants to get a $3000 fine because they don't have a SWMS onsite.

Keep your clients up to date – By giving your client their own login you can choose what they see and what you keep hidden. Communication with your client is easy. Your client can add documents and notes for you to see. Keeping all documents in one place. No more missing emails
Join a community – join in discussions with other likeminded tradies, ask questions and help other tradies out. Get updates and tips and more from our private Facebook page Construction Safety Online
Keep organised – All your project documents in one place, take photos, upload documents, timesheets, risk assessments, toolbox meetings

All staff can easily review and update a SWMS, both versions remain available
Set reminders to check on your SWMS
Staff can enter a timesheet or start a timer to track your billable hours

All your safety documents onsite – avoid a $3000 fine because you forgot to pick up your SWMS from the office, or you leave site with the SWMS is in your Ute. All your policies, procedures and SDS's onsite and available to all staff
When safety updates happen – POSO will also be updated, you will also be notified of the changes
Reminders and tips – Sometimes it's the small things that can be the most useful. POSO is awake before you, ready to give you a safety reminder before you get started for the day and throughout the day. Simple things like reminding you to do a welfare check, or to check the weather can make a difference to how your day works out.
It just keeps getting bigger – Projects One Safety Online will keep growing. New capabilities are being developed as you read and we are always open to suggestions, so please if you have an idea on how we can make POSO better, please feel free to let us know
It all makes perfect business sense, keep your staff safe and save time and money! Wow, who would have thought. Ok so it sounds easy, a great place to start is by giving us a call at Projects One Safety Online and let us help. We know the construction industry and we know safety.
Projects One Safety Online is beneficial to Principal Contractors to ensure their contractors and their subcontractors are safety compliant. 
Remember, every morning as you prepare for work ask yourself, what's different about today? If something is different you need to revise your safety!
Stay safe, from the Projects One Safety Online team