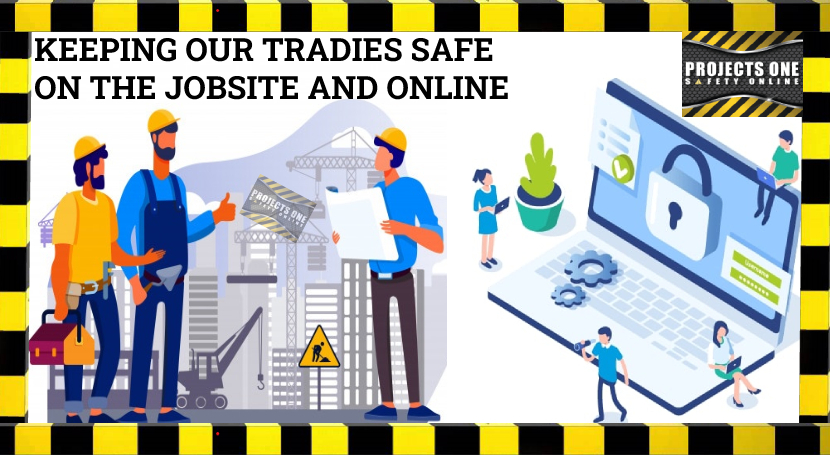 Keeping our tradies safe on the jobsite and online
I asked our developer to write a blog about how they keep our clients safe, so the below blog is written by the IT Development team. My warmest thanks to you all, not only for contributing to the blog but the outstanding work and long hours you do to make Projects One Safety Online a great product.
Projects One Safety Online (POSO) is focused on being Australia's leading online safety system for construction businesses. However, POSO is not just any project management tool, we work as an extension of your hands and memory. We are extremely passionate about educating tradies about safety programs, helping improve tradies' lives across Australia and we are exclusively focused on safety administration controls, intending to make safety more convenient and a must have. Projects One Safety Online is an interactive platform which will include your entire team.
POSO was born and raised right here in Australia, created by tradies specifically for the needs of the Australian tradie. Working towards workplace health and safety compliance for any small or medium scale construction business. We strive to prevent all and any hazards at the workplace be it physical accidents or online database security breaches, ensuring tradies' safety being our greatest concern.
Workplace health and safety is a must because it will not only offer a greater scope for business opportunities but also increase productivity with fewer absences and lesser accidents (which means reduced cost of insurance premiums, and who doesn't like that?). Ensuring better safety procedures boosts morale, making everyone in the workforce feel valued and a sense of security resulting in better workers' retention and performance. Reduced costs due to less staff changes and better work environment, we believe in smart work more than hard work. Why take chances only to regret later. Better safe than sorry! Right?
Safety is not to be shrugged at or swept under the rug. We know construction, we know safety and we genuinely care. We understand that one might try to avoid writing a Safe Work Method Statements (SWMS) at all costs, so we have worked hard to make writing a SWMS an easy step by step process. We have also added the same process to writing Risk Assessments and recording Toolbox Meetings. We have packed the platform full of project management tools, and data bases for you to use such as Safe Operating Procedures and Safety Data Sheets keeping you and your staff organised and on task. There is even a place to keep a record of all your work instructions, policies, projects, photos, confidential documents, etc. secure as well as easily accessible to the staff. The application gives back control of that paperwork and helps keep staff accountable and on track for their own safety.
With identity theft and fraud rising, it becomes difficult to put faith in any system. We live in a time where anybody and everybody can edit a Wikipedia page, how can we trust anything that is happening online with our sensitive information? This constantly haunting paranoia is totally valid.
So, without any further a-do, let us go through some bullet points that make us a safe choice and worthy of your trust;
The data you provide is end-to-end encrypted, reducing the number of parties' access and interference in the data while it's being transferred from one end system to another.
The full control and access is given to the users; giving more power and control to the users over their interactions with technology which builds a sense of familiarity, making it more known, increasing and enhancing trust between people and the platform. (Customer's details and activity status at your fingertips, import your customers from an excel spreadsheet, create a login for your client, add principal contractor details for SWMS, create projects and schedule tasks, personalised calendar, filter and search easily, statistics by project status/activity progress up to date)
We also allow multi-user login, allowing more than one person simultaneously working on one project or file motivating collaboration and increasing productivity. This feature also improves accuracy as more than one user is working on the utmost up-to-date particulars. With multi-user login, individual user access levels can also be set which guarantees data protection.
Projects One Safety Online application uses Stripe Payment Gateway for its transaction, which is audited by a PCI-certified auditor and is a certified to PCI Service provider level one, the tightest level of certification available. It is a great online-only credit card processor that charges fair processing rates with only a few added costs. It uses the best-in-class security tools and practices, and maintains a high level of security – which makes it a secure, reliable, and superior support service offering competitive transaction processing fees and who doesn't want a better, a more secure service at a better price?
If any user suspects a threat, we have a back-up of all the data and every action made which helps in identifying the problem and further resolving the issue. If any user is exposed to a breach of privacy or to sensitive/vulnerable content by another user or by their colleague; it can immediately be alerted and reported and can restrict the colleague's activity and can also deactivate their accounts.
There's a separate section offering a provision for one to upload and share private documents, similar to a cloud wallet. It also allows you to create separate groups to share projects files and documents.
A whole other section of the knowledge base uploaded with some basic video tutorials and articles regarding different aspects affecting any normal construction business. It also allows for the user to upload their own tutorials, guidance videos and material that can prove to be helpful to their business and staff on the portal.
Automatic e-mail notifications and reminders are sent on a consistent basis. The resulting pdf file is also sent directly via mail which can be easily accessed and shared so, our users don't have to separately download the html file at the end.
At the end of the day, your safety is in your hands, remember; make sure you keep strong passwords, do not share your passwords, or allow access to any confidential information with multiple users.
I hope this helps when deciding on a safety system for your team.
From the IT Development Team at Projects One Safety Online please stay safe.
Remember, every morning as you prepare for work ask yourself, what is different about today? If conditions change, change your safety!