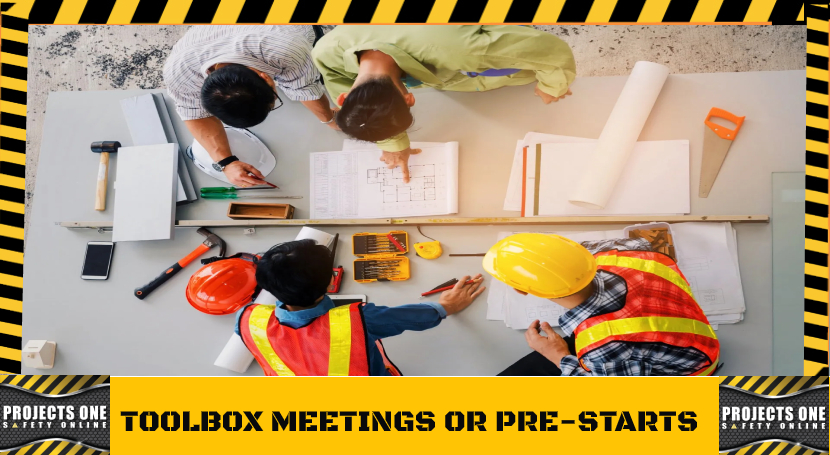 Toolbox meetings or Pre-starts
In the morning before you get started for the day, is it a Pre-start meeting or a Toolbox meeting?
To me a Pre-start is something you do before you start your truck, and a Toolbox meeting to some means the boss has picked a safety topic to talk about. It really does not matter what you call it, as long as it happens.
At Projects One Safety Online we have called those early morning meetings before the work starts a Toolbox meeting.
Toolbox meetings are an important part of your day or at the very least your week and a large part of your safety plan. We do our toolbox meetings daily. I like to check in with all my staff to ensure they are fit for work, and they know how to do the job safely. Some days our meetings only last a few minutes, but other days they can be longer, depending on the jobs that are being done and what has changed.
So, what should you talk about in a toolbox meeting and why should we do them? Two great questions that I am going to let my great wife have her say on. Let's face it, she's way better at this then me!
10 ways to WOW the toolbox meeting crowd
Written by, a Tradies Wife, creator of Projects One Safety Online, the 'simplifier' of all thing's safety
A well-designed toolbox meeting can be the center piece of your safety system. The importance of a great safety system has been well documented, which means your center piece needs to WOW your crowd and they are a tuff bunch to wow.
The humble toolbox meeting is under rated. They are a great way to keep your staff safe and informed of the hazards and risks. Done well the toolbox meeting becomes a great tool for communication, consultation and training.
Ever wondered what the word WOW means? Well my version of WOW is to Walk on Water! Quite frankly safety talks are a hard one to get peoples attention, so without Walking on Water how do you capture your audience?
Lead from the top – If you can have a business owner, or CEO join your meeting it shows that Safety is a priority from the top down
Food – should you have an important issue or a new concept to divulge, I have always found getting your crowd onside before you begin helps
Organised – write your agenda, know your topic and keep it short. Don't babble on, and on, and on, it's not productive and you certainly wont look like you are walking on water
Positive – keep the agenda positive. Keep the cynical out
Consultation – toolbox meetings are a great time to ask your team for their safety suggestions. Remember, it's the safety of your team you are talking about. Your team are the ones who see the hazards every day. It is vital that you take this time to cover the hazards, risks and control measures in place and see if they can be improved
Communication – keep your language clear and concise. Be confident! Encourage your team to communicate their safety concerns. Ask your team if they have any accidents or near misses to report.
Co-operation – recognise toolbox meetings as an important part of a person's role, show thanks for attending and respect their time
Read your audience – avoid sounding like your year 10 science teacher, they don't need a lecture, if your crowd is nodding off or wondering away you are definitely not walking on water
Feedback and follow-up – take the opportunity to provide positive feedback, acknowledge everyone for their contributions, and importantly avoid criticism.

Make sure there is time for staff to ask questions.

Take the time to follow up from the last meeting. Check all follow-up items were completed or have progressed. Answer questions that could not be answered last week.

Last but not lease, do a quick recap of all major items on your agenda. Keep it simple!

Record your toolbox meeting – record meeting dates, attendees, discussion items and follow-up tasks. Keep your meeting records on file.
Toolbox meetings are a part of Projects One Safety Online System.  We have developed the toolbox meeting records to be easy to use. Your team leader can easily use the questionnaire as a guide, add discussion notes and follow-up tasks.  
Remember, every morning as you prepare for work ask yourself, what is different about today? If something is different you need to revise your safety!
Stay safe, from the Projects One Safety Online team