SIZE DOES MATTER, SAID ONE TRADIE TO ANOTHER
Workplace health and safety in the construction industry
News headlines like "Fatal falls on work sites" and "Worker's legs crushed by reversing forklift" puts Workplace Health and Safety (WHS) and the construction industry in the spotlight. Highlighting the importance of good workplace health and safety systems so every worker goes home safe and sound to their families each day. Every construction business needs a comprehensive Workplace Health and Safety Management System in place, it not only keeps our workers safe, a good WHS culture really improves worker moral, helps worker retention rates, makes you employer of choice and keeps your business out of the headlines. Win win for all involved and from a business point of view your return of investment goes through the roof.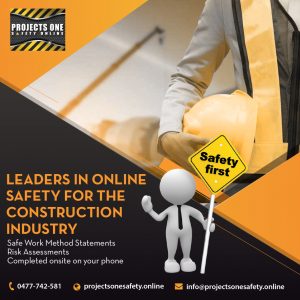 Ok, so don't hate me for being "Captain Obvious" workplace health and safety is a big issue right?
Its ok if you are a BIG construction company, you simply hire someone who has the health and safety skills, knowledge and degree to write robust workplace health and safety management systems and implement them into the company.
How about the LITTLE guy, working 50 hrs a week on the tools, changes hats 30 times a week, marketing guru, HR specialist, bookkeeping extraordinaire, lion tamer, IT know-it-all, husband/wife…
And now you're expected to turn out the same kind of Workplace Health and Safety Management System as the big guys, wow pass me my cape and call me superman!
10 Workplace Health and Safety tips for the construction industry
Written by, a Tradies Wife, creator of Projects One Safety Online, the owner of a small construction business, mother of two, aka "Superwoman"
Remove your cape, you don't want to get caught up on a nail (that means more paperwork)
Remember workplace health and safety is a very important tool, more important than that new nail gun hubby just brought, which you now need to write a new Safe Operating Procedure for and train your workers how to use it safely and record in your training register. If it's not written down, you can't prove it happened
Make time now! Workplace Health and Safety is far too important to put in the 'too hard' basket or sweep under the carpet

don't get overwhelmed it's not rocket science, although some make it look like 'War and Peace' not workplace health and safety
get help with your workplace health and safety, projectsonesafety.online is here to help, make it easy and save you time and money and possibly a little grey hair
keep it simple, Projects One Safety Online takes you through the process step by step so the team can do their workplace health and safety on their phones when they arrive on site, Safe Work Method Statements, Risk Assessments, Toolbox Meetings

Learn to love safety. Spread the love and help your staff love it too, after all safety is about ensuring everyone goes home safe each and every day. Join Projects One Safety Online community for extra support where you can ask questions, read discussions, learn from others mistakes, help others just starting out
Attend workshops run by your local Worksafe office
Do some bedtime reading, sorry no mills and boon for a while. Codes of Practice are a great source of information. Projects One Safety Online website has the links at the bottom of the home page
Remember, you can do this, be compliant, grow your business and most importantly keep your sanity intact, Projects One Safety Online will save you hours and hours of research, writing documents and working out what a Safe Work Method Statement really means
Safe Work Method Statements (SWMS) (don't roll your eyes at me in disgust) are a very important tool for keeping everyone safe in the construction industry. Industry make these harder than they should be. Projects One Safety Online makes SWMS easy. On your mobile phone, onsite with your teammates:

choose your high-risk activity
turn on the tasks you are doing
add or delete controls you need
use the risk calculator to score the risk
email it to your principal contractor
review it when something changes

Respect safety, it is king!
Safety paperwork shouldn't just be done in the office, it needs to be done onsite. For this very reason we have developed our online system and mobile application, Projects One Safety Online to help every tradie, quickly and easily do their Safe Work Method Statements, Toolbox Meetings and Risk Assessments, on their phone, onsite, when they need it, so size doesn't matter. Check out projectsonesafety.online
Stay safe, from the Projects One Safety Online team